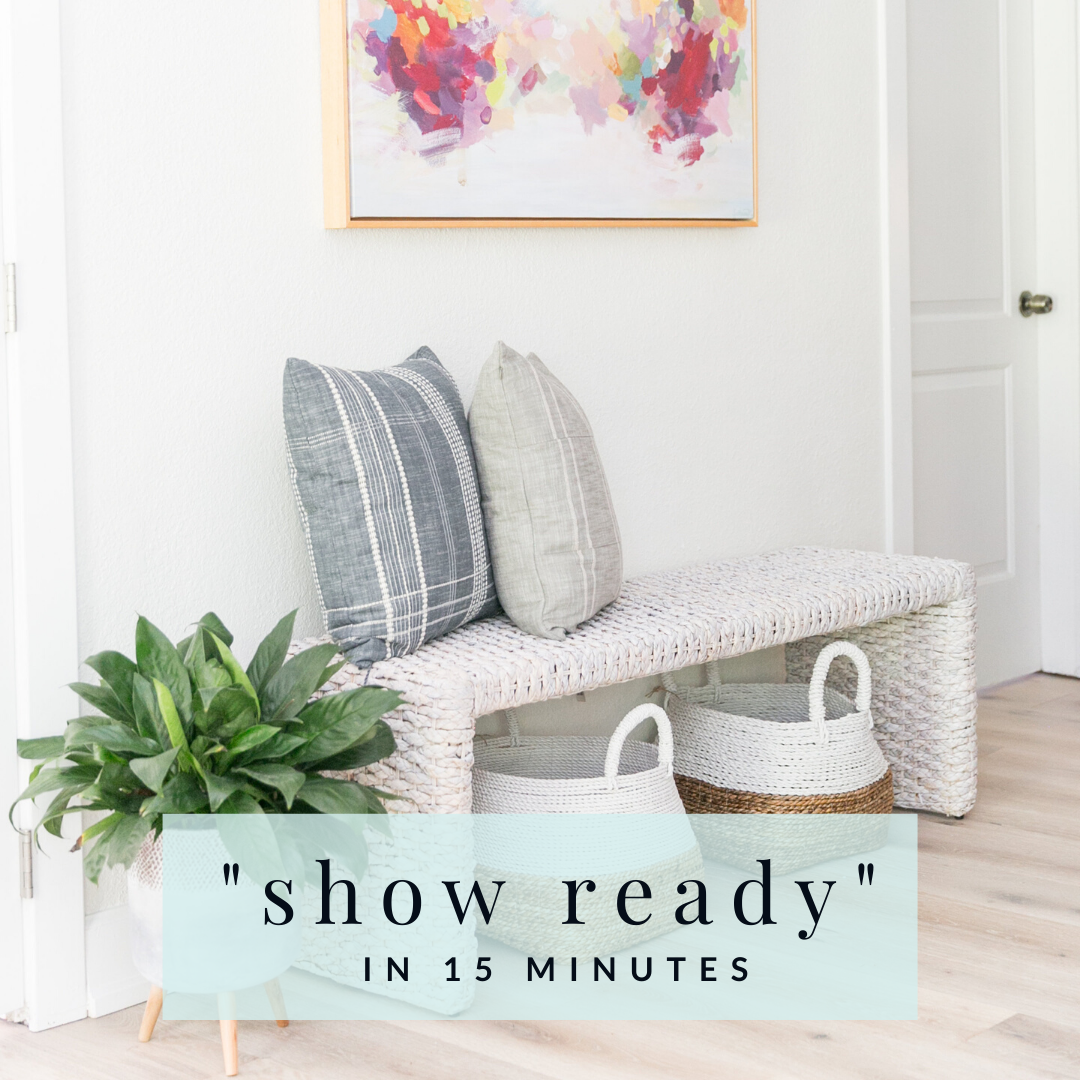 It's Wednesday, you just walked in the door from a day at the pool. The kids are cranky and tired, you're ready to relax in the AC UNTIL you remember you have a showing scheduled in less than an hour!
Incase you ever find yourself in a crunch (whether it's guests coming on short notice or you have a last minute showing) here are my tips for getting your house "show ready" in 15 minutes!
1. Get yourself a last minute basket – Pick up an extra laundry basket from Target that is dedicated for "showing time"! Before you leave the house, you can do a quick scan of the house and throw in any scattered toys, dog dishes, magazines, any little things laying around that you want out of sight but don't have time to put away. Then take it with you in the car!
2. Fluff the couch pillows – you know how they get when the kids, spouse or significant other has been laying or sitting there. Fluff them up to make the couch look good!
3. Light the candle – don't overpower your house with all the smells but one simple candle on the kitchen counter adds a nice touch that also makes it feel homey!
4. Turn on every single light (including exterior lights, accent lights and lamps) and open all blinds and curtains. Seriously – all of them no matter what time of day it is! Your home shows best when it's light and bright!
5. Close the toilet seats – just telling you incase you forget (a lot of people do!)
6. Tell Alexa to play some background music that sets a classy, relaxing or inviting mood.
7.  Keep containers of cleaning wipes in the kitchen and bathrooms so you can quickly wipe down countertops.
There you have it, your house will be ready for a showing in no time! Before I go, I wanted to let you know about my showing prep checklist! I packaged up all the tips I give my sellers when prepping for a showing, into a PDF checklist and I'm sharing it for free! It's the list they follow to make sure their house looks it's best before buyers arrive.